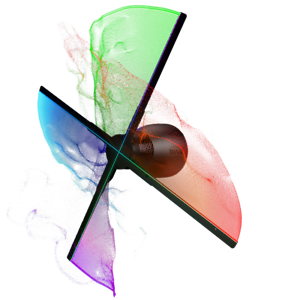 Overview:
The ultimate Solutions For advertising and promotions in india , 3d hologram LED Fan is the best and promising techonolgy out there to give 3d hologram effect , this Simple and elegant 3d hologram fan will mesmerize you and any one from this world .
3D hologram LED Fan display will give you the Midair viewing exprinence without any 3d glasses , your products will float in 360 Degree , we can use any videos and photos on this display But to get 3D effect we need to upload custom 3d videos , Videos and images are produced by the Dot Matrix LEDs which is arranged closly in the fan blades that will Spin in customized frequnecy to get the 3d Hologram effect.
It will replace our traditional way of advertising and promotions ,
To know more difirent concepts : https://3dhologramfan.eshark.in/ideabox
Pros :
Easy To Install any where , accessories comes with fan helps us to place the fan anywhere possible ( Stand , kiosk , Celing Bracket , wall Bracket ) Click here to purchase

Control over your content through WIFi , Upload and delete content through Anroid / IOS app

Supported formates JPG, GIF, MP4, AVI , RMVB,MPEG .

Suites your Budget Different Fan sizes : 43cm , 50cm 4blades , 60cm 2 baldes , 65 cm 4 blades ,70cm 4 blades , 100cm 4 blades.
Cons :
You need an Gra60phic designer to get absoulte 3d hologram effect to Get support please call us : +918939799709

We need to use protective case for safety and durability purpose , please shop cases and accesories here : https://3dhologramfan.eshark.in/shop
For deatiled review click Here
Our Company eshark is poineer in this technology in chennai 3d Hologram fan in chennai ,
We support our customer in creating 3d hologram videos and solutions that suits you best .
we can create 3d hologram ads for your products like shoes watchs and any design you wanted .
we can use this is in office , shops , malls , events and offline promotions .

will be use full for constructions companies , desginers and product demos .

Watch Our 3d hologram fan review in youtube
There are few things that need to be taken into account when we search for the best 3D hologram fan. Every business requires an advertisement to showcase the business and to sell the products. All those traditional billboards are not gonna work out anymore in the upcoming days. It's time to overcome those outdated advertisement
Read More »
Holographic Technology – Buy 3D Hologram Fan Display Traditional forms of marketing are on the decline as audiences are growing distrustful of advertising in general. The goal of EShark Digital marketing is to create experiences that are immersive and impactful. Holographic technology (used in applications like 3D hologram fan) is increasingly being used by brands
Read More »
3d hologram fan is Hot in Indian advertsing market right now , everyday people find a new way to use this mesmerizing technology , So many brands popped up in last few months , this review will help you out to find right product for you . 1. Desee Lab Dsee lab is the most
Read More »